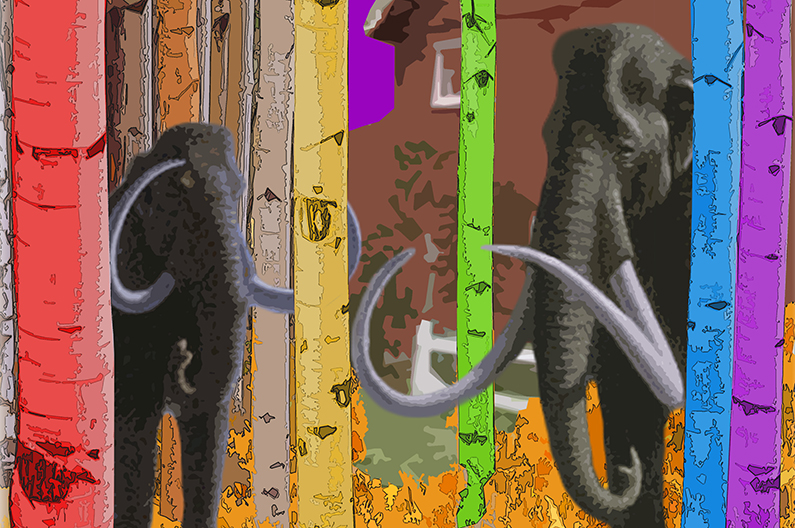 A play by Madeleine George
A screwball sex comedy about the perils of monogamy, certainty, and academic administration.
Dean Wreen is not having a good week. Her college is in dire financial straits and a plan to close its tiny, all-but-forgotten natural history museum is sending unexpected shock waves across campus and out into the local community. At home, her ex-lover, Greer, is staying with her—sending shock waves of a different sort through her relationship with her current (and much younger) girlfriend, Andromeda. Town-gown relations are in tatters! The local newspaper is erupting in protest! Even the awful, historically inaccurate dioramas in the museum have started mouthing off! A screwball sex comedy about the perils of monogamy, certainty, and academic administration.
Directed by Brooke O'Harra
Assistant director/stage manager: Ethan Friedson
Scenic design by Adam Riggar
Lighting design by Amanda Jensen
Sound Design by David O'Connor
April 5th:
Join project director Brooke O'Harra, members of the company and the Theatre Arts faculty for a post-show reception. Due to circumstances beyond our control, the previously scheduled conversation with playwright Madeleine George has been cancelled.
About Madeleine George:
Madeleine George's plays include Hurricane Diane, The (curious case of the) Watson Intelligence (Pulitzer Prize finalist; Outer Critics Circle John Gassner Award), Seven Homeless Mammoths Wander New England (Susan Smith Blackburn finalist), Precious Little, and The Zero Hour (Jane Chambers Award, Lambda Literary Award finalist).  Her plays have been produced at Playwrights Horizons, Clubbed Thumb, Shotgun Players in Berkeley, City Theatre in Pittsburgh, Theater Wit in Chicago, Perseverance Theatre in Alaska, and Two River Theater Company in New Jersey, among many other places.  Madeleine has received the Whiting Award, the Princess Grace Playwriting Fellowship, three MacDowell Fellowships, and a Lark Playwrights Workshop Fellowship, and she holds commissions from Manhattan Theatre Club, Clubbed Thumb, the Big Ten Theater Consortium, and the Children's Theater Company in Minneapolis.  She's a resident playwright at New Dramatists, a founding member of the Obie-Award-winning playwrights' collective 13P (Thirteen Playwrights, Inc.), the Fellow for Curriculum and Program Development at the Bard Prison Initiative, and the Mellon Playwright in Residence at Two River Theater in New Jersey.