Production Archive : The 2013/2014 Season
The One Act Play Festival:  The Road Trip and Princess
April 4 + 5, 2014
Time 7pm
Bruce Montgomery Theatre
Annenberg Center for the Performing Arts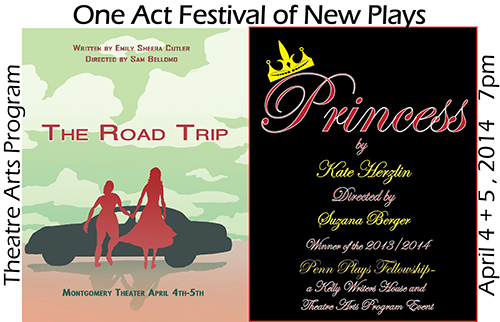 The Road Trip
By Emily Sheera Cutler
Directed by Samantha Bellomo
Click here to visit the Penn Provost Art & Culture website feature on Emily Cutler and THE ROAD TRIP.
Winner of the 2013 Judy Lee Award for Dramatic Writing at Penn's Creative Writing Program.
Unsatisfied with their lives, friends Kim and Julie drive away from their high school in search of adventure. On the road the two girls discover themselves and each other as road games turn into an unexpected insight into their lives. Jump in the back seat and follow these two girls as they put their friendship on drive.
Bios:
Emily Sheera Cutler (playwright) is a sophomore in the College majoring in Communication with a minor in Creative Writing. This year, The Road Trip won the Young Playwrights Inc. National Playwriting Competition and was read off-Broadway. Her plays have also been recognized by Samuel French, the Alabama Shakespeare Festival, and the Alabama Writers Forum. Emily has been involved with the Theatre Arts department since freshman year, when she stage managed Iphigenia and Desdemona: A Play About a Handkerchief.
Samantha Bellomo (director) is the Resident Director at People's Light & Theatre Company where she has worked on over 30 productions as Director, Choreographer, or Fight Director. Most recent directing credits include Pride & Prejudice, People's Light and Two Gentlemen of Verona, Delaware Shakespeare Festival. Choreography credits include Arden Theatre, Passage Theatre, McCarter Theatre, 1812 Productions, Lantern Theatre, Delaware Theatre Company, Act II Playhouse, and Mauckingbird Theatre Company. Sam teaches at Drexel University and is a five time Barrymore Nominee for Outstanding Choreography Movement.
Princess
By Kate Herzlin
Directed by Suzana Berger
Winner of the Theatre Arts Program/Kelly Writer's House  2013/2014 Penn Plays Fellowship.
Click here to visit the Penn Provost website feature on Kate Herzlin and Princess.
Princess, a 28-year-old who acts much younger, is matched by her parents to the man of her dreams. When things suddenly escalate and she realizes her happily ever after is entirely out of her hands, just as it was for her sister, she rebels to take back control.
Bios:
Kate Herzlin (playwright) is a senior English major. She is the Chair of the English UAB, on Penn Players and Penn Singers Boards, and is the Outreach Coordinator at Kelly Writers House. She is also a literary intern at The Wilma Theater.  Kate hopes to be a playwright when she grows up.
Suzana Berger (C '02)  (director) is a theatre artist and educator focused on vivid physical performance, building community partnerships, and creating new work that explores social issues imaginatively. Directing credits include Suzan-Lori Parks' The America Play (Plays & Players); Spring Awakening (Penn Players); Jester's Dead (The Outfit at Philly Fringe); Shakespeare Remix Macbeth and Leila Buck's One (Epic Theatre Ensemble, NYC); If You Give a Mouse a Cookie (Synchronicity Performance Group, Atlanta); Naomi Wallace's A State of Innocence (Culture Project, NYC); and Shakespeare's Cymbeline. She is Artistic Director of Dragon's Eye Theatre, where she has developed and directed A Mystery? and Seek & Hide, interactive theatrical adventures for the young in age and the young at heart. Suzana is a member of Lincoln Center Theater Director's Lab. She holds an MFA in Theatre from Sarah Lawrence College and a BA in English from the University of Pennsylvania, where she teaches the August Wilson & Beyond course and Teaching Performing Arts for Cross-Cultural Education.
Past Productions:
WELL 
By Lisa Kron
Directed by Dr. Rosemary Malague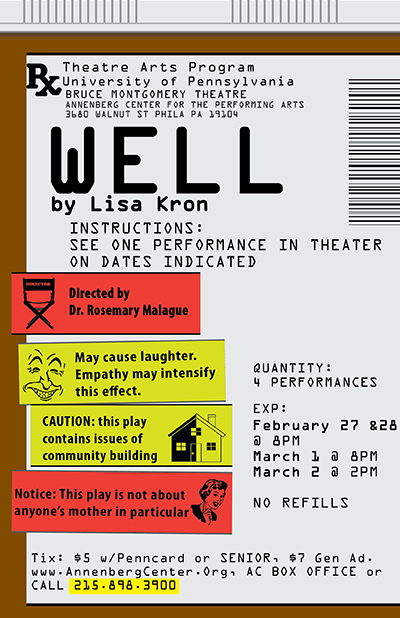 Featuring a special performance of the role of Ann by Theatre Arts Program Director Dr. Marcia Ferguson.
Visit the Provost's Art & Culture webpage for more information and a special video on this production.
February 27 & 28 @ 8pm
March 1 @ 8pm
March 2 @ 2pm
Bruce Montgomery Theatre
Annenberg Center for the Performing Arts
Tickets available through Annenberg Center Box Office: 215-898-3900 or www.annenbergcenter.org
Tickets: $5 for Penncard holders, students w/ID and seniors. $7/General Admission
From the publisher:
The acclaimed writer/performer Lisa Kron's newest work is all about her Mom. It explores the dynamics of health, family and community with the story of her mother's extraordinary ability to heal a changing neighborhood, despite her inability to heal herself. In this solo show with other people in it, Kron asks the provocative question; Are we responsible for our own illness? But the answers she gets are much more complicated than she bargained for when the play spins dangerously out of control into riotously funny and unexpected territory.
Annenberg Center for the Performing Arts  
Cast
Catalina Mullis           Lisa Kron
Dr. Marcia Ferguson    Ann Kron
Ensemble
Josef Hoenzsch         Howard Norris, Head Nurse, Himself
Taiwo Sokan             Lori Jones, Kay, Mrs. Price, Cynthia, Herself
Nina Friend               Joy, Dottie, Herself, Ernest Owens, 
Ernest  Owens           Nurse 2, Little Oscar,Big Oscar, Himself
Production Team
Rose Malague           Director
Nicole Sadaniantz     Stage Manager
Lynette Ashaba         Running Crew
Millie Hiibel               Costume Designer
Alyssa Mensch           Assistant Costume designer
Peter Whinnery         Lighting Designer
Eric Baratta              Scenic Designer/Production Manager
Chris Whelan            Technical Director
In The Next Room
By Sarah Ruhl
Directed by Dr. James F. Schlatter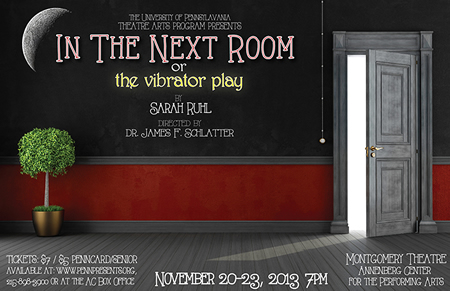 November 20-23, 2013   7pm
Bruce Montgomery Theatre, Annenberg Center for the Performing Arts
The Theatre Arts Program's first production of its 2013-2014 season is In the Next Room, by Sarah Ruhl, one of America's most imaginative, theatrically inventive, and intellectually stimulating playwrights working today.  Subtitled Or the Vibrator Play, Ruhl sets her story in the genteel Victorian world of 1880's New York, a world about to be changed utterly with the arrival of modern scientific, industrial, and electrical power.  The play deals with the introduction of the vibrator into American medical culture as an instrument for "healing" sexual dis-function, hysteria, and neurasthenia in women (also in men).  With unsparing honesty and great humor, but without condescension, Ruhl dramatizes very personal issues:  gender discrimination, the relationship between sexual and emotional intimacy, and the link between the body and personal identity.  Her characters are deeply human, with rich and complex emotional lives, and engaged in profound journeys of discovery, of themselves and of their relationships with spouses, lovers, and friends.  In the Next Room offers student actors, designers--and audiences-- an unmatchable theatrical experience.  Theatre Arts faculty member Dr. James F. Schlatter directs.
Cast:
Dr. Givings…………….Frederick Adler
Mrs. Givings…………..Nicole Sadaniantz
Elizabeth………………Kalyne Coleman
Mr. Daldry……………..Josef Hoenzsch
Mrs. Daldry…………….Mira Taichman
Leo……………………..Dane Mainella
Annie…………………..Susan Riley
Production Staff:
Director………………..Dr. Jim Schlatter
Stage Manager……….Tracy Hawkins
Lighting Designer:.......Peter Whinnery
Assistant Lighting Designer......Thalia Stanberry
Costume Designer......Lizzy Pecora
Sound Designer:........Tony Baruffi 
Scenic Designer/Production Manager....Eric Baratta