The 2012/2013 Production Photo Archive
Staged Reading:  Pinchas Vontz
By Cary M. Mazer
Directed by Ed Sobel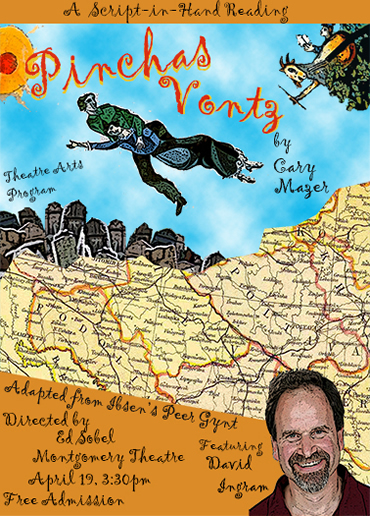 April 19, 3:30pm
Bruce Montgomery Theatre
ANNENBERG CENTER FOR THE PERFORMING ARTS
Admission is Free, seating is limited.
Ibsen's play tells the story of a young scamp in a Norwegian village who appropriates traditional Scandinavian folktales as though they were his own adventures, and then begins living out the stories himself, launching himself on a journey in which he repeatedly compromises his self by trying to preserve his self, until he discovers, as an old man, that he might not have any self at all.
Mazer shifts the action of the play to a turn-of-the-century Jewish shtetl in the "Pale of Settlement" of the Russian empire, and replaces Ibsen's Norwegian milieu with Jewish folktales and Jewish theology, philosophy, and mysticism.  His title character, Pinchas Vontz, sets out on a journey that takes him to America, through inter-war Palestine, to post-Holocaust Europe, as he is forced to explore his own Jewish identity in the diaspora.
The reading will be directed by Penn graduate (and Theatre Arts major) Ed Sobel, who for several years was Director of New Play Development at Steppenwolf Theatre in Chicago, and is currently a theatre professor at Temple University and Associate Artistic Director of the Arden Theatre.  The title role will be read by noted Philadelphia actor David Ingram (seen most recently in Clybourne Park at the Arden). Supporting roles are open to the Penn community.
All members of the Penn community are invited to participate, as actors or listeners.  For those wishing to read one or more roles, there will be one or at most two rehearsals the week of the reading.  If you're interested, contact Kevin Chun at chunATsas.upenn.edu
The Playboy of the Western World
By John Millington  Synge
Directed by Dr. Marcia Ferguson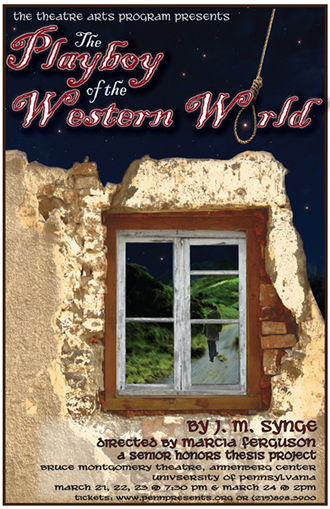 March  21-24, 2013
March 21, 22, 23  7:30pm performances
March 24   2pm performance
Bruce Montgomery Theatre
ANNENBERG CENTER FOR THE PERFORMING ARTS
For tickets, visit: www.pennpresents.org
On the lam from the law and hoping to find shelter on a dark night, Christy Mahon is a self-confessed, cold-blooded murderer
when he stumbles into Michael Flaherty's rural Irish tavern, at the turn of the 20th century.  To his surprise, he is embraced by
the colorful citizens of the village, including Flaherty's beautiful daughter, Pegeen, and the lusty Widow Quinn.  Infamous for
his dirty deed, he is just riding the crest of his popularity when the past catches with him, exposing the flip side of his fate,
and bringing him face to face with the darkness he had hoped to outrun.
An Interview with Dr.Marcia Ferguson on the Penn production of Playboy of the Western World.
Production Photos
View photos from dress rehearsals here: http://www.flickr.com/photos/arts_at_penn/sets/72157633033249983/
Photos courtesy of Penn Arts Initiative
Desdemona
A play about a handkerchief
By Paula Vogel
Directed by Nicole McGarry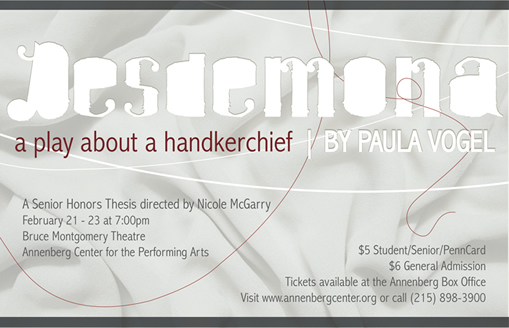 A Senior Honors Thesis Project in Directing
REVISED SCHEDULE
February  22-23, 2013
Bruce Montgomery Theatre
ANNENBERG CENTER FOR THE PERFORMING ARTS
Friday, February 22: 7pm
Saturday, February 23: 2pm
Saturday, February 23: 7pm
The Cast for Desdemona:
Desdemona : Catalina Mullis
Emilia: Jeanette Elstein
Bianca: Suzy Kim
Photos courtesy of Penn Arts Initiative, view the set here
Reviews of this play (from Dramatist's Play Service):
As the wrongly accused and suffering wife of Shakespeare's tragic Moor, Othello, Desdemona has long been viewed as the "victim of circumstance." But as Pulitzer Prize-winner Paula Vogel demonstrates in her comic deconstruction of Shakespeare's play—aligning tongue-in-cheek humor while raising serious questions as to the role of women through the ages—Desdemona was far from the quivering naïf we've all come to know. "Vogel remains one of the smartest, most original and engaging playwrights to come along in the last few years." —NY Newsday.
Play description (from Dramatist's Play Service):
THE STORY: Having slept with Othello's entire encampment, Desdemona revels in her bawdy tales of conquest. Her foils and rapt listeners are the other integral and re-imagined women of this Shakespeare tragedy: Emilia, Desdemona's servant and the wife of Iago, and Bianca, now a majestic whore of Cyprus. The reluctantly loyal Emilia pesters Desdemona about a military promotion for her husband. Her motive, however, is that he leave her a wealthy widow, preferably sooner than later. Bianca, now a street-wise, yet painfully naive prostitute, visits Desdemona thinking she is a very good friend and fellow hooker (at least one night a week). Bianca thinks the worst when she soon discovers that Desdemona knows intimate details of the life of her lover, Cassio. Though Desdemona has never been intimate with Cassio, her life is soon in danger when her husband, Othello, also suspects her of infidelity.

Iphigenia
Adaptation by P. Seth Bauer
Directed by David O'Connor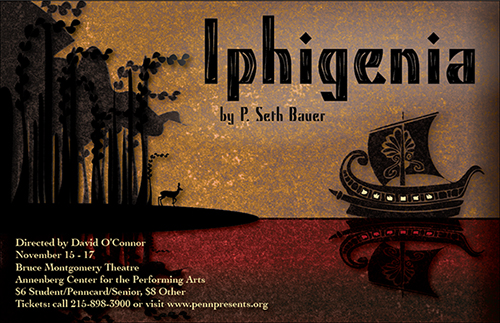 November 15-17, 2012
Thursday, November 15: 7pm
Friday, November 16: 7pm
Saturday, November 17: 1pm
Saturday, November 18: 7pm
Bruce Montgomery Theatre
ANNENBERG CENTER FOR THE PERFORMING ARTS
Tickets on sale November 2.
For tickets, call 215.898.3900 or visit www.pennpresents.org
Stage Manager: Emily Cutler
Musical Direction/Composition: Pat Lamborn
Lighting Design by Peter Whinnery
Costume Design by Millie Hiibel
Scenic Design by Eric Baratta
Reviews of this play (from Dramatist's Play Service):
"It is the cunningly agile pen of twenty-first-century playwright P. Seth Bauer that is responsible for the adapted production entitled IPHIGENIA…There is more that's divine about Bauer's triumphant adaptation; chiefly, that he not only preserves the Euripidean sense of timelessness within modernity but in some respects even amplifies it." —NYTheatre.com. "This simple adaptation, highlighted with quiet flashes of humor, touches upon those deeper issues of war and faith, of patriotism and loyalty, managing to be both contemporary and authentically ancient at the same time. It is a masterful adaptation." —Off-Off-Broadway Review. "Fine intellectual fodder for America…it becomes enjoyable, ultimately tragic theater. The ninety-minute production moves with clarity and great humor." —American Theater Web.
Play description (from Dramatist's Play Service):
THE STORY: In this modern take on the classic tale, King Agamemnon prepares to lead the greatest coalition of armies in the history of the world to retrieve Helen of Troy. But the seas have suddenly calmed in the Bay of Aulis, and Agamemnon becomes determined to fulfill a terrible prophesy—in order for the winds to blow, he must sacrifice his eldest daughter, Iphigenia. Queen Clytemnestra and Iphigenia arrive at the soldiers' camp, lured by the lie that she will be married to the great warrior, Achilles. Unfortunately, this is the first that Achilles has heard of it. He and his comical army of sock puppets, "The Mighty Myrmidons," are getting antsy sitting around waiting for the wind to rise. As the soldiers become more and more restless, it's clear that some action has to be taken or the entire coalition will turn upon itself. To hold on to his power, Agamemnon must make a decision that will echo through the ages, as his daughter's death becomes the catalyst for generations of bloodshed. But then Iphigenia surprises them all with a decision that no one could have guessed. Alternating between bawdy comedy and high drama, this play raises questions about what makes a hero in the modern world and what price must be paid to satisfy a country's lust for revenge.

photos by Brooke Sietinsons, Penn Arts Initiative