Previous 2011-2012 Productions
On The Town
Music by Leonard Bernstein
Book and Lyrics by Betty Comden and Adolph Green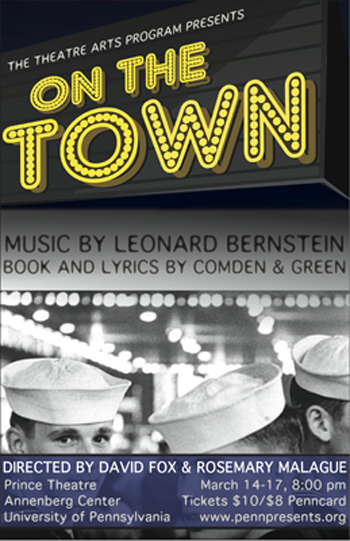 On the Town is a classic American musical, composed by Leonard Bernstein, with libretto and lyrics by the famous writing team Betty Comden and Adolph Green. The setting is New York in World War II, when three young sailors hit the town for a day's leave in the big city (the show's most famous song is "New York, New York"). Over the course of the day, they encounter three young women, an anthropologist, a taxi driver, and an aspiring performer—and adventures ensue.
The musical is both exuberant and poignant, featuring six vibrant young people, eager to embrace life; their exciting day in New York is set against the backdrop of war—and their own uncertain futures.
Penn's Theatre Arts Program is very pleased to produce this musical, which has not had a revival in Philadelphia for a great many years. The production was directed by faculty members David Fox and Rose Malague.
Production photos (by Michael Marfione, photographer.  marfione@me.com)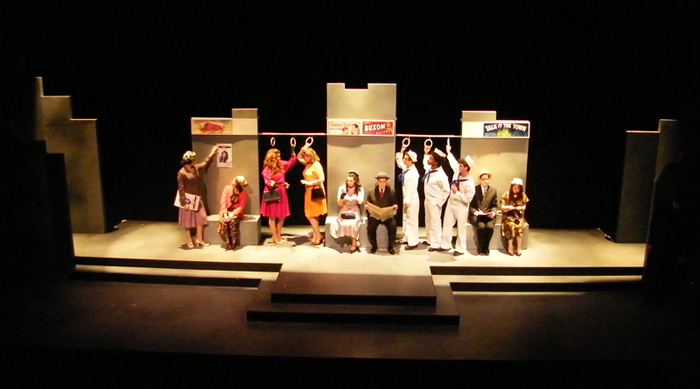 Subway Scene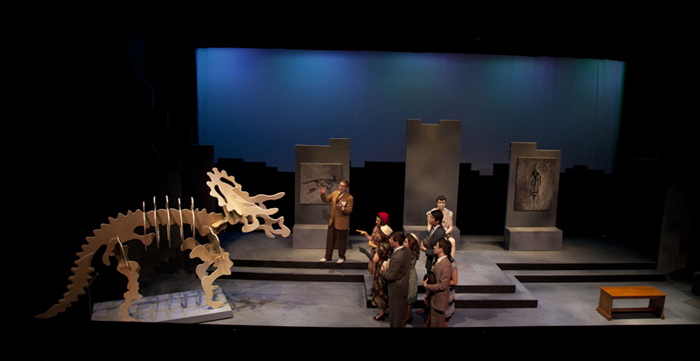 At the Museum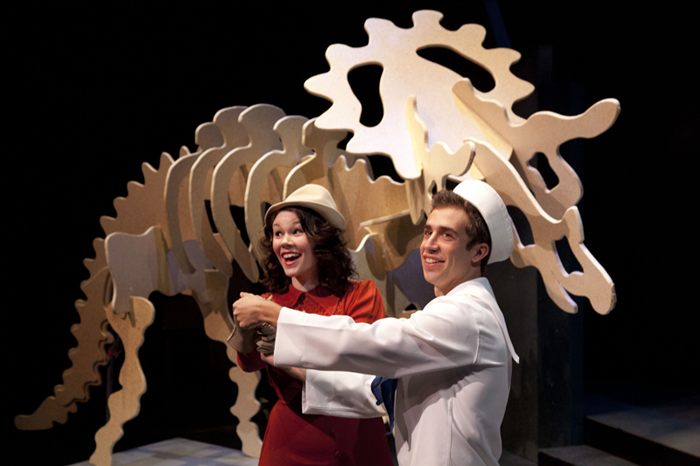 "Carried Away"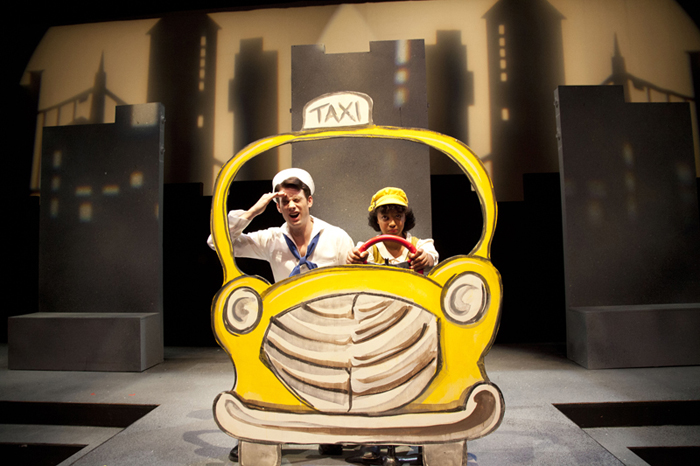 "Come Up To My Place"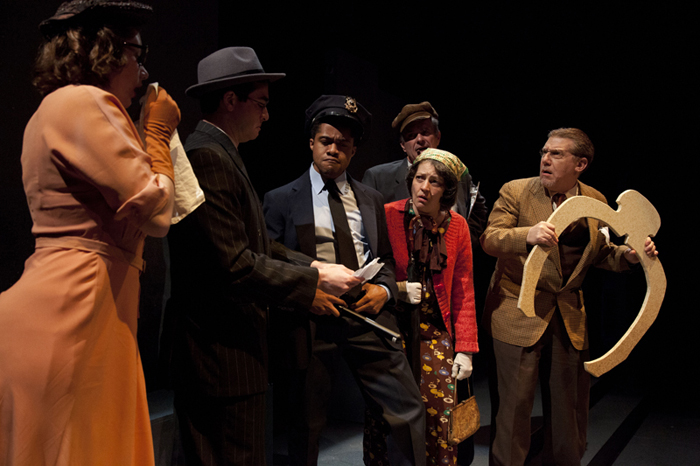 Chase Scene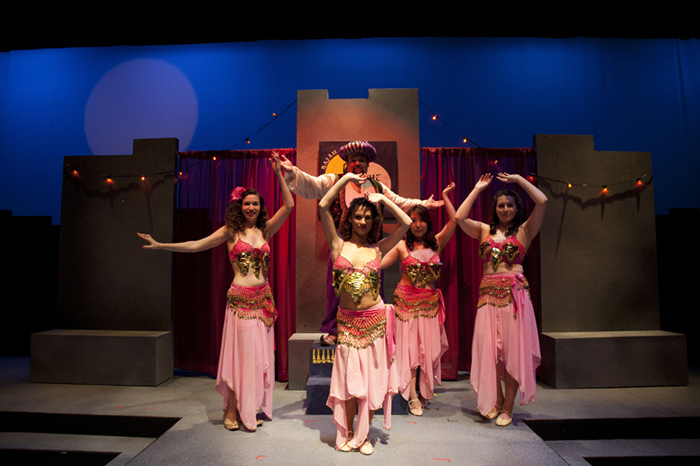 Raja Bimmy's Harem
Twilight: Los Angeles, 1992
By Anna Deavere Smith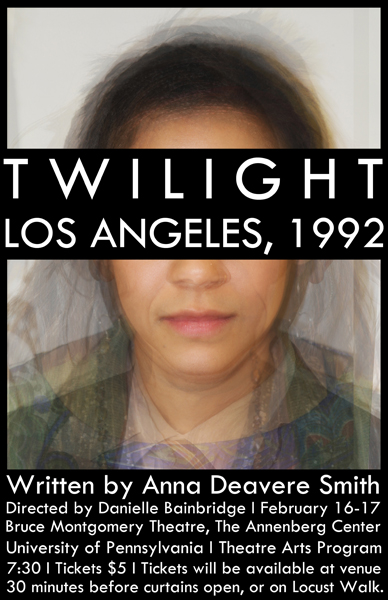 A Workshop Production
February 16 and 17, 2012
7:30pm
Bruce Montgomery Theatre, Annenberg Center for the Performing Arts
Ticket information for Twilight Los Angeles,1992:
For members of the Penn community, tickets available for purchase on Penn's 'Locust Walk' at various times during the week of the performance and for the general public at the Theatre at 7pm on each night of performance (while supplies last).
No internet or phone sales are available for this production. Tickets will be sold at the venue, not the Annenberg Center Box Office.
Directed by Danielle Bainbridge
Faculty project advisor: Cary M. Mazer
Featuring a company of senior Theatre Arts majors.
Stage Manager: Noah Levine
A documentary theatre piece that critically evaluates American racial politics in the wake of the 1992 Los Angeles riots, Anna Deveare Smith's Twilight: Los Angeles, 1992 presents as many problems as it refuses to offer solutions. Originally researched, written and performed by Deveare Smith as a one woman show, Twilight is a series of candid interviews with LA residents in the aftermath of the events that shook this nation. The trial of the police officers responsible for beating Rodney King, a young African American man, was widely televised. The events surrounding King's arrest and the subsequent trial sparked national debate about the nature of race, privilege and police brutality in America. Here Deveare Smith seamlessly represents the full spectrum of experiences, interviewing such diverse candidates as famed opera singer Jessye Norman, former Black Panther Party member and activist Elaine Brown, philosopher and critic Cornel West alongside a juror from the court case, the aunt of Rodney King and one of the police officers responsible for the attack on King. This piece is equal parts gripping, horrifying and empathetic as it grapples with an American landscape, irreparably changed by the controversial trial and the reverberations of the aftermath.
Production photos (by Michael Marfione, photographer. marfione@me.com)
THE ROVER
By Aphra Behn
Directed by Dr. James F. Schlatter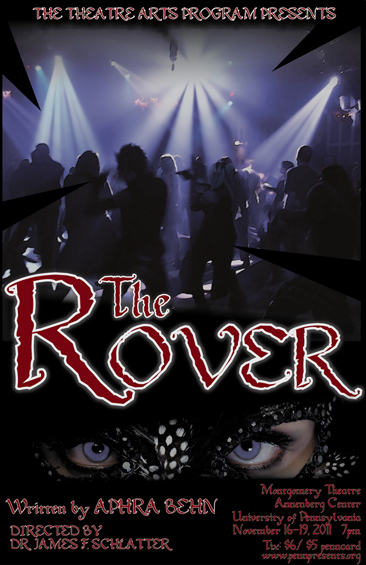 Bruce Montgomery Theatre
November 16-19, 2011 
**Please note the start time for this production is 7pm
Tickets available at www.pennpresents.org or by calling 215.898.3900
In her brilliant, witty, and provocative play, Behn, England's first professional female playwright, sets her young characters free--or rather turns them loose--at Carnivale to seek libertine pleasures, fantastic new identities, and, just possibly, true love.  Capturing her own time, Restoration London, Behn speaks very much to ours, when the boundaries between the faces of reality and the masks of reality T.V., between love and the games of seduction, and between who we are and who we pretend we are become dangerously blurred.   Students earn academic credit as members of the cast and also as members of the production staff.
Cast List for THE ROVER
FLORINDA…………………………………ELYSSA EDELMAN
HELENA……………………………………MARISA BRAU
ANGELLICA……………………………….DEANNA SUPPLEE
BELVILLE………………………………….BEN LERNER
FREDERICK……………………………….JAY RODRIGUES
BLUNT………………………………………ADAM HAMILTON
WILLMORE………………………………..PETER MILLER
PEDRO……………………………………..JEFFREY JOHNSON
ANTONIO…………………………………..RAWSON FAUX
SPIRITS OF THE MASQUERADE:
RACHEL CATTO
ANNA PAN
ARIEL KOREN
DIRECTOR…………………………………DR. JAMES F. SCHLATTER
STAGE MANAGER……………………….NICOLE MCGARRY
Production Images from THE ROVER
LOOK/ALIVE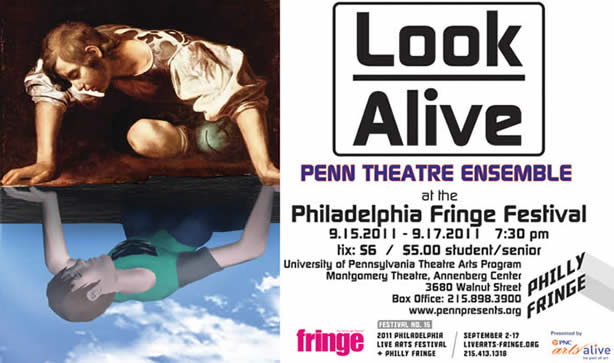 Bruce Montgomery Theatre, Annenberg Center for the Performing Arts
A Penn Humanties Forum Co-Sponsored Event
September 15-17  7:30pm
Tix: $6 / $5 Penncard, Senior and Student
For tickets, visit: www.pennpresents.org or call 215.898.3900
Devised collaboratively by the company of six actors, director Cary Mazer, and their theatrical colleagues in Philadelphia, Look/Alive uses narration and movement to retell myths, fairy tales and folktales from Ovid, Grimm, Anderson and others, about avatars, statues, echoes, mirrors, reflections, and demonic possession, all of which depict the seductive danger of images. Wii players fall in love with their avatars; a puppeteer wishes his marionettes could come to life; a sculptor falls in love with his statue; a nymph fails to capture the attention of her beloved when she can only verbally mirror his words; a young man falls in love with his own reflection; a witch sucks her victims into a mirror; and an over-protective mother, succumbing to a voice echoing inside of her, kills her step-son, only to discover that his essence, protected by the spirit of his late mother, has returned to take his revenge.
Production photos (by Michael Marfione, photographer.  marfione@me.com)
Group Project: Zombie Apocalypse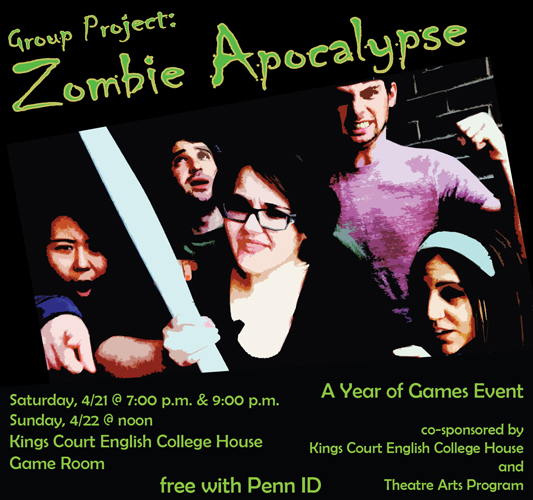 Group Project: Zombie Apocalypse, a devised theatre piece by students of THAR250
Instructor: David O'Connor
A sextet of graduating Penn students think they are competing for an internship by participating in a Reality TV Gameshow, but find themselves competing to determine who is best prepared to survive the upcoming Zombie Apocalypse.  You play the studio audience, and participate in determining who wins, and who is left behind.
Performances at:
Kings Court English College House
Game Room
Saturday, April 21 at 7:00 p.m. and 9:00 p.m.
Sunday, April 22 at 12:00 noon
Free and open to members of the University of Pennsylvania community with Penn ID cards.
A Year of Games Project
Co- sponsored by:
Kings Court English College House
Theatre Arts Program