CYRANO DE BERGERAC
by Edmond Rostand
Newly Adapted by Michael Hollinger and Aaron Posner
A Script Reading Project
To be directed by Cary Mazer
Featuring members of the Penn Theatre Arts community and Philadelphia professional Greg Wood
Annenberg Center for the Performing Arts
3680 Walnut Street, Philadelphia, PA 19104
7pm   March 18 , 2011
Hollinger's new translation aims to be spare and actor-friendly; immediate and theatrical; and true to the poetic sense of the original, though it does not adhere to Rostand's strict meter and rhyming couplets. Rather, lyricism becomes a quality that waxes and wanes depending on the dramatic needs of each scene, and is developed through a range of poetic devices, including end rhyme, internal rhyme, alliteration, assonance, consonance, etc.
Photos from this performance, featuring members of the Theatre Arts community and Philadelphia actor Greg Wood:
Transfixed
A Documentary Play
by Elisa Asencio, Nikhil Dingra, Ali-Reza Mirsajadi, and Richard Norman
Directed by Cary Mazer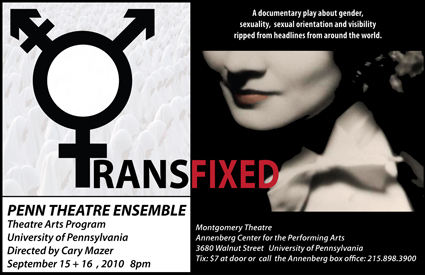 Bruce Montgomery Theatre
September 15 + 16, 2010
Compiled from verbatim sources—public speeches and documents, newspaper articles, interviews, tv shows, memos, press releases, blogs, and internet postings—Transfixed is a full-length documentary theatre piece about how governments and cultures control gender, sexuality, and sexual orientation by granting or denying visibility.  Linking disparate issues and events such as a Mississippi high school student who wanted to go to her prom with her lesbian girlfriend, a transsexual who competed on America's Next Top Model, sex-change  operations in Iran, and the U.S. military's "Don't Ask, Don't Tell" policy, Transfixed is about the questions that society doesn't want to ask, and the stories that people aren't allowed to tell to answer those questions.
Production photos:
Urinetown
The Musical
By Greg Kotis and Mark Hollmann 
Directed by Dr. James F. Schlatter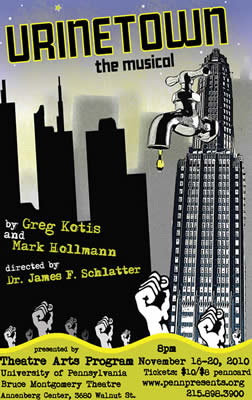 Bruce Montgomery Theatre 
November 16-20, 2010  8pm
Tickets: $10 general admission / $8 Penncard holder, seniors, students with id
Gotta pee?  Can't pay?  Too bad!  That is the excruciatingly hilarious premise of Urinetown:  the Musical, the sensation of the 1999 New York International Fringe Festival and winner of nine Tony Awards in 2001.  Penn's Theatre Arts Program returns the show to its rough and raucous downtown roots in an in-your-face cabaret-style production in the Annenberg Center's intimate Bruce Montgomery Theater, running November 16-20, at 8:00 p.m. 
Dr. James F. Schlatter of the Theatre Arts faculty directs this production, a featured program in the University of Pennsylvania Provost's Year of Water events.
The Theatre Arts Program has hired Zachary Wiseley  as the Musical Director/Accompanist for this production. Philadelphia professional Millie Hiibel will be designing costumes,  Peter Whinnery will design lighting and Eric Baratta designs the scenic environment. Shannon Murphy, choreographer and dancer has joined the artistic team of URINETOWN as a movement director/consultant.  For more information on Ms. Murphy's work, visit http://www.groupmotion.org/
Special Event: Following the Thursday, November 18 performance:
"LAUGH 'TIL YOU CRY"
THE AMERICAN MUSICAL AND THE CREATION OF ANEW POLITICAL THEATRE FOR THE 21ST CENTURY
Following the Thursday, November 18th performance of Urinetown, produced by Penn's Theatre Arts Program, a panel of Penn faculty and scholars will discuss the production in the context of new developments in the form of the American musical, modern American political theatre, and the influence on both of Bertolt Brecht's plays and theories in creating a new political musical theatre in the 21st Century. The production and this panel are made possible in part by the generous support of the Provost's Office, in conjunction with the Year of Water theme this year in the College of Arts and Sciences.
Panel Participants:
David Fox. Panel Moderator. Director of Academic Initiatives for the Provost's Office, including Penn Reading Project and New Student Orientation. Lecturer in Theatre Arts, where he teaches courses in American musical theatre and directs productions.
Dr. James F. Schlatter. Member of the Theatre Arts faculty. Director of Urinetown.
Special research and teaching interest in modern American theatre, including the political theatre of the 1930's and 1960's.
Professor Anat Feinberg. University of Heidelberg. Visiting Scholar in the Department of Near Eastern Languages and Civilizations. Specialist in postwar German theatre and Jewish Studies.
Mr. Stanley Laskowski. Lecturer in the Department of Earth and Environmental Sciences. Special interests include the attainment of the UN Millenium Development Goals for water and sanitation, and global environmental management and regulation. He is one of the founders of the Philadelphia Global Water Initiative.
Production photos:
The Good Times are Killing Me
by Lynda Barry
Directed by Dr. Marcia Ferguson
Bruce Montgomery Theatre
February 23, 24, 25, 26, 2011
Tickets: $8 General Admission / $6 Senior/penncard holder
The Good Times Are Killing Me by Lynda Barry, graphic artist and cartoonist, about an inter-racial friendship between two girls on a suburban block during the "white flight" of the 1960's.  Full of music, street dance, and humor, the play deals with serious subjects through the lens of a sweet and sour coming-of-age tale.  Many technical positions are open for this production, and there are many opportunities for actors, singers, and dancers, although no experience is necessary in any of the above categories.
Production Photos: