Wednesday, November 18, 2015 - 6:00pm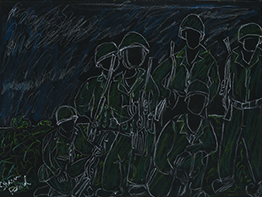 Penn Provost's  Art & Culture
Interview with Bury the Dead Project Director
Dr. James F. Schlatter

Interview by Kathy Vinogradoff for Art & Culture 

KV: Tell me a little about Bury the Dead.
JS: I've known about the play for a long time and always thought about doing it. The play deals with a battlefield that has become a gravesite where American soldiers are being buried during the middle of this unnamed war. Just as the soldiers are about to be buried, they stand up and refuse to. So the central question is how they can get these soldiers to lie down and be buried. If they don't lie down, they'll stink, and the smell of war will permeate the world, bringing everything to a cataclysmic end. So they try to work out ways to get these young men to lie down and be buried. 
They come to the decision later on in the play that the only way to get the men to lie down is for a woman to talk to each soldier into lying down. A wife comes to talk to a husband, a sister comes to talk to a brother, a girlfriend comes to talk to her fiancé, and so forth. But it doesn't work.... 
Continue to  the full interview with photos here.
For more photos, visit the Art & Culture Flickr set here.
Warrior Writers Gallery
PLEASE VISIT THE GALLERY OF WRITING AND ART WORK CREATED BY VETERANS IN A WORKSHOP CONDUCTED BY LOVELLA CALICA OF WARRIOR WRITERS OF PHILADELPHIA.  PARTICIPANTS IN THE WORKSHOP WATCHED A REHEARSAL OF THE COUPLES SCENES IN BURY THE DEAD AND THEN CREATED WORK BASED ON THE PROMPT "THOUGHTS OF HOME."
Dr. James F. Schlatter
November, 2015
Theatre Arts Program
University of Pennsylvania