Saturday, March 6, 2021
to
Monday, March 15, 2021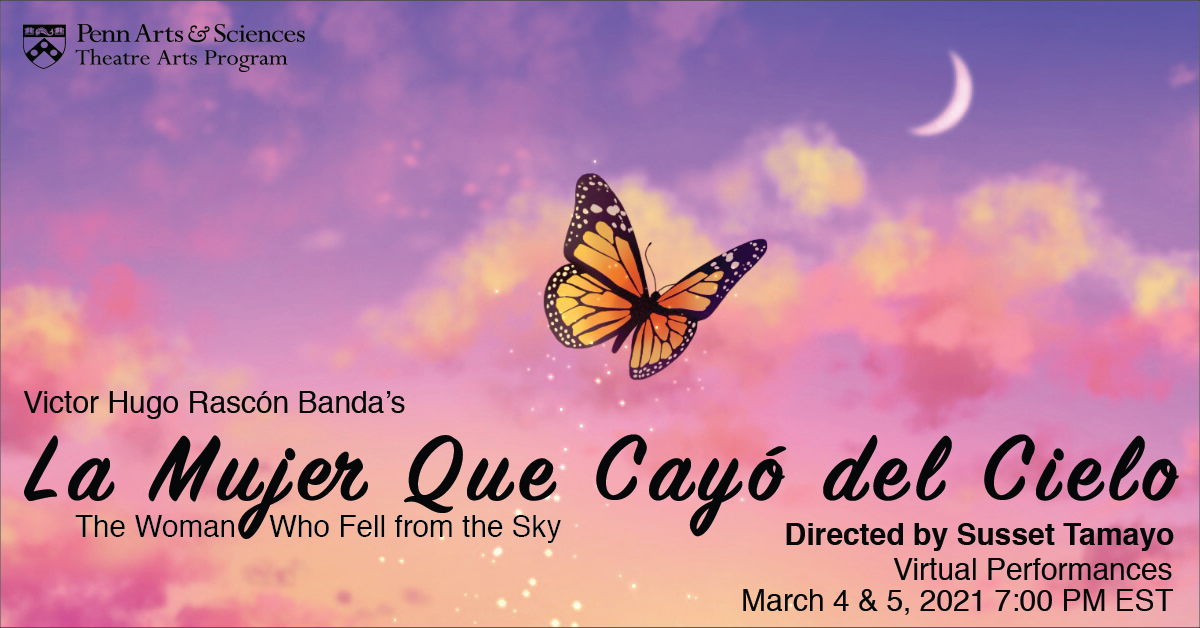 The Theatre Arts Program at the University of Pennsylvania presents: La Mujer Que Cayó del Cielo
by Victor Hugo Rascón Banda 
Directed by Susset Tamayo
Poignant and inexplicable, Rita's true-to-life tale invites us to explore the barriers and bridges language can provide. Watch Susset Tamayo's virtual thesis production of La Mujer Que Cayó del Cielo by Victor Hugo Rascón Banda from the comfort of your home.
LIMITED TIME ONLY
The full performance of La Mujer Que Cayó del Cielo is available to view on YouTube through March 15th, 2021.
ORIGINAL PERFORMANCES DATES
Thursday, March 4 at 7pm EST*
Friday, March 5 at 7pm EST
*Missing the chance to mingle at the stage door? Following the Thursday 3/4 performance, the audience is invited to remain in Zoom for a short post-show, cameras-optional call with the cast and crew.
LA MUJER QUE CAYÓ DEL CIELO VIRTUAL PROGRAM
Please Note
The performance runs about 90 minutes.
Please participate in an anonymous online survey directly after this evening's performance to assist Susset Tamayo in gathering valuable audience experience information for her written thesis. A link will be provided after the performance.
Director's Note
Language is a manifestation of our thoughts, our identities, our most complex and dynamic selves. The ways in which we navigate the world and simply exist are deeply tied to how we communicate with one another. Víctor Hugo Rascón Banda's La Mujer Que Cayó del Cielo, relays the story of Rita, a native speaker of Tarahumara, a Mexican Indigenous language of the Tarahumara people. Based on a true story, the play portrays the challenges and confusion that language barriers can create when a migrant finds herself detained and misunderstood in Kansas. Her suffering is a consequence of failed communication and dismissive attitudes from those who could not understand her. The story itself demonstrates how language barriers can (and often do) affect the lives of immigrant and migrant peoples in the United States. While engaging with this play, I was drawn to the fascinating and beautifully complex way in which the three languages--Spanish, English, and Tarahumara--connect to show different experiences and views. Each language communicates and provides something quite unique from the others. 
It was amazing to see how language and communication came up as we worked on this production. For most of us, Spanish was our first language and so getting to work on this together felt like home. I want to thank and recognize the wonderful cast for all of their work. Setting up greens screens and microphones was a challenge and acting to yourself in your own room was probably very odd, but thank you for trusting me and taking on this Zoom theatremaking experience. Thank you for exploring different parts of each character and of yourselves, for learning a new language, for talking to your screens, dedicating yourself, your time, and your space to make this show happen. Thank you. 
Nuestros idiomas, el lenguaje que usamos, es una manifestación de nuestros pensamientos, nuestras identidades, las partes más complejas de nuestro ser. Las maneras en que vamos por el mundo y en cual simplemente existimos están inherentemente conectadas a cómo nos comunicamos entre nosotros. La Mujer Que Cayó del Cielo de Víctor Hugo Rascón Banda cuenta la historia de Rita, una hablante nativa de Tarahumara, una lengua Indigena Mexicana, la lengua de la gente Tarahumara de Chihuahua. Basada en una historia real, la obra retrata los desafíos y confusión que las barreras del idioma pueden crear cuando una migrante se encuentra arrestada e incomprendida en Kansas. Su sufrimiento fue consecuencia de comunicación fallida y actitudes desdeñosas de quienes no podían entenderla. Su historia demuestra cómo las barreras del idioma pueden afectar las vidas de la gente migrante e inmigrante en los Estados Unidos de América. La manera en que las tres lenguas usadas en la obra funcionan en relación con las otras es hermosamente compleja. Cada una comunica algo especial y diferente. 
Quiero darle las gracias y reconocer al elenco de actrices por haber confiado en mí y por haberme acompañado en este gran viaje que ha sido crear teatro a través de Zoom! Muchas gracias por explorar las diferentes partes de los personajes y de ustedes mismas, por aprender una nueva lengua, por platicar con sus pantallas, por dedicar ustedes, su tiempo, y su espacio para este show. Gracias. Y a mis papas: Mami, Papi, gracias por todo su apoyo y su amor--no estuviera aquí sin ustedes.
-Susset Tamayo
Cast
Doctor I … Erika Correa
Doctor II / Policia II … Lorena Correa
Rita … Meresa Garcia
Doctor / Policia I / Amigo … Aniah Palacios
Giner … Jhohanna Perez
Interprete / Eduardo … Maria Riillo
Creative Team
Director … Susset Tamayo
Stage Manager … Salma Villegas
Visuals, Costumes, & Props Designer … Jaqueline Medalle
Production Manager / Technical Director … Cat Johnson
Language Consultants … Ana Paula Pintado Cortina and Felicitas López Yoder
Special Thanks
Tanya Davis
Jennifer Thompson
Noah Levine
Biographies
Erika Correa (Doctor I); from Dallas, TX; performing in Dallas, TX.
Erika plays the role of Doctor in this production. She is very excited to be a part of this production, directed by Suzy. This is her first time doing theatre. She has previously performed as a dancer in high school and college, and she is excited to add theatre to her list of accomplishments. Thank you!
Lorena Correa (Doctor II / Policia II) Major: Sociology; Class of 2021 at the University of North Texas; from Dallas, TX; performing in Dallas, TX.
Lorena has performed in Clue, The Yellow Boat, The Insanity of Mary Girard, and Blood Wedding. She is a proud mother of 4 house plants and dedicates this performance to them and the rest of her family members. Lorena thanks her former directors Victoria Irvine for introducing her to the theatre realm and Miguel Maymi for pushing her towards new heights. Lorena also sends a special thanks to Director Susset Tamayo for creating a unique theatrical experience - any praise is well deserved. Lastly, she would like to give Khanh LaManna a shout out for helping Lorena through the hectic adventures of applying for colleges and scholarships as a DREAMER. She recommends the DREAM.US Scholarship for those who qualify as DACA recipients or those with TPS looking for financial assistance. https://thedream.us/scholarships/national-scholarship/
Meresa Garcia (Rita) Major: Spanish and Italian; Class of 2023; from Los Angeles, CA; performing in Philadelphia, PA.
While this is Meresa's first time on the main stage, she cannot think of a better play to begin her acting debut. She is grateful to wonderful director Suzy Tamayo for believing in her and entrusting her with the beautiful role of Rita. She would like to shout out UTB, because if it were not for this amazing group of people, she would not have the courage to be here. Meresa gives an enormous thank you to the gorgeous cast and crew for all their incredible efforts in putting on this marvelous play. Gracias a sus padres por contarle a ella las historias de sus antepasados: ipia na pache!
Cat Johnson (Production Manager/Technical Director); Philadelphia, PA.
Cat Johnson has been serving in the Theatre Arts Program at the University of Pennsylvania as Production Manager since the autumn of 2019, after nearly 20 years of scenic design and technical direction work in local and regional theatres across the country. She holds an MFA in Theatre Design from Temple University and a BA in Drama from Washington University in St. Louis. Johnson has taught theatrical design courses at Temple, Northern Kentucky University and here at Penn. She sends a big thanks to all who took the leap with us to virtual theatre performance!
Jaqueline Medalle (Visuals, Costumes, & Props Designer) Major: Nursing, Minor: Global Health; Class of 2021; from Farmington, NM; designing in Philadelphia, PA.
As a former employee of the Theatre Arts Program in various roles from building sets to assistant stage manager, Jaque is excited to be able to explore more avenues of theatre by taking on the graphics design role in an unprecedented time of virtual productions. She thanks her dear friend Suzy Tamayo for this opportunity.
Aniah Palacios (Doctor / Policia I / Amigo); from Dallas, TX; performing in Dallas TX.
Aniah is currently playing the role as Police, Doctor, and Amigo. This is her first time being in a play and is super excited! She is the owner of a lovely cat named Luna. Aniah would like to give thanks to the entire cast and crew for their hard work and dedication.
Jhohanna Perez (Giner) Major: Neuroscience, Minor: Global Health; from Union City, NJ; performing in Philadelphia, PA.
Jhohanna is a pre-medical student in the College interested in exploring her artistic side. Two years ago, she was a part of a silent play that told the story of the Bible, and she is looking forward to seeing how silent acting could be useful for this creation! Other than this, Jhohanna is very passionate about public health/humanitarian issues and is spearheading an initiative to help orphans in Yemen.
Maria Riillo (Interprete / Eduardo); from Buenos Aires, Argentina; performing in Weston, FL.
Maria graduated with the Class of 2020 from the University of Pennsylvania. She was involved in two of the last shows of the Penn Theatre Arts Program (Everyman, and The Government Inspector) and was involved in many student productions, as an actor, writer, and director. She now works at a nonprofit and continues to write and perform.
Susset Tamayo (Director) Major: Theatre Arts, Minor: Education; Class of 2021; from Dallas, TX; directing from Philadelphia, PA.
Susset Tamayo (Suzy) is a senior in the Theatre Arts Program. She is so excited to make her directorial debut at Penn with this virtual production of La Mujer Que Cayó del Cielo. She has previously acted in the Theatre Arts Program's productions of The Government Inspector, Everyman, and Of Government. Aside from theatre, she is involved in CityStep Penn and PennCAP. She would like to thank her friends and family (from Texas and Penn) for the love and support. She would especially like to thank the amazing cast and crew for bringing this production to life! And to my parents, thank you for everything that you do.
Salma Villegas (Stage Manager) Major: Biology, Minor: Chemistry; Class of 2022 at the University of North Texas; from Dallas, TX; performing in Dallas, TX.
After being involved in theatre arts in high school, Salma is excited to return to her passion for theatre by working on La Mujer Que Cayó del Cielo as the stage manager. Salma is currently attending the University of North Texas at Dallas studying for a B.S. in Biology and a minor in Chemistry. She is the founder and current president of the Urban Agriculture and Renewable Resources Society on her campus, as well as the vice-president of the UNT Dallas TriBeta chapter. She enjoys fostering kittens in her spare time. She would like to thank the cast and crew for making her theatre re-introduction the best one she could ask for.